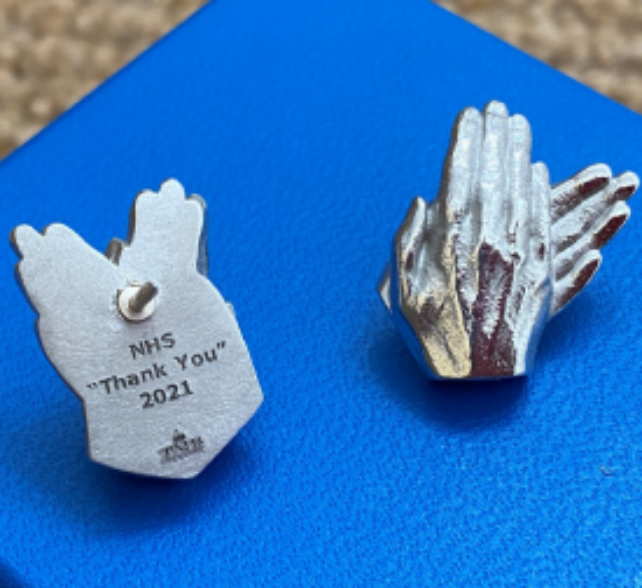 A porter at Harrogate District Hospital has had his hands cast in a melted-down 1939 vintage Spitfire main spar to form thank you badges, recognising the outstanding efforts of colleagues across the NHS during the Covid-19 pandemic.
Faisal 'Faz' Yousaf, a porter as part of the Harrogate Integrated Facilities team at the hospital, is one of six NHS colleagues nationally who have taken part in the project in support of NHS Charities Together.
TMB Art Metal has created special 3D fundraising 'Thank You' pins to benefit NHS Charities Together. Initially consisting of a run of 5,000, the production of which TMB Art Metal is funding in entirety, the pins cost £25 each, £10 from the sale of each going to NHS Charities Together. The pin will be available exclusively from www.nhsthankyoupin.co.uk from Monday 21 June.
Called 'A Symbol of Our Time', the idea was formed to base the design around the hands of six members of NHS staff from the Covid frontline. They represent every member of the NHS who has cared for families, friends, communities and patients around the UK. With the help of NHS Charities. Using CAD technology their hands were amalgamated into a design based on clapping hands that has become the national symbol of gratitude to the NHS.
Faz was suggested by colleagues to be a part of this project. When the first wave of Covid-19 started, he was on the frontline in the Emergency Department as well as the admissions unit taking patients to and from Intensive Care. He works all around the hospital transporting patients, bloods, equipment as well collecting these from the villages nearby and from Leeds and this didn't stop during the pandemic.
Faz said: "I was seeing first-hand the doctors and nurses who'd been in full PPE for 12, 13 hours coming out of Intensive Care, their expressions, body language and the scars the equipment made. Then in the days and weeks that followed it became a really proud achievement to have all my colleagues around me and to be a part of that team.
"I feel overwhelmed to be a part of this project. I've been here for around two years, and to me, my colleagues are not colleagues but friends and family. I have so much love and respect for all of them. I wouldn't be here without their support.
"I feel so privileged to work alongside so many amazing doctors and nurses and when they call my name and ask for help with something, to do it as fast as I can in and safe manner is amazing. I love working with such amazing people and to represent them in this project is an absolute honour. From the start of patient care to the finish it's a team effort. I wouldn't change it for the world."
The pin is made from a very special material called Duralumin – a type of aluminium alloy – recycled from an actual World War Two Spitfire aircraft. This Spitfire, serial number 'P7350', first flew in August 1940 during the Battle of Britain and along with other Spitfire models became a symbol of bravery, resilience and hope during the Second World War.
Sammy Lambert, Business Development, Charity and Volunteer Manager: "I am delighted that we are involved in such a monumental project. Faz is an incredible colleague and a real asset to #teamHDFT. All of our colleagues across the Trust are so grateful to be part of such a lovely initiative to thank the NHS. I see first-hand the difference the monies raised through donations from projects such as this can make – thank you."
Ellie Orton, Chief Executive of NHS Charities Together, said: "I love this project and want to thank Chris and the team at TMB Art Metal for everything they have done to raise funds for our Covid appeal. This new pin design is fantastic and a lovely tribute to the NHS staff who have worked so tirelessly to keep us all safe and well throughout the pandemic. I urge people to buy one, as it will mean we can do even more to support all NHS staff, volunteers and patients caught up in all this."