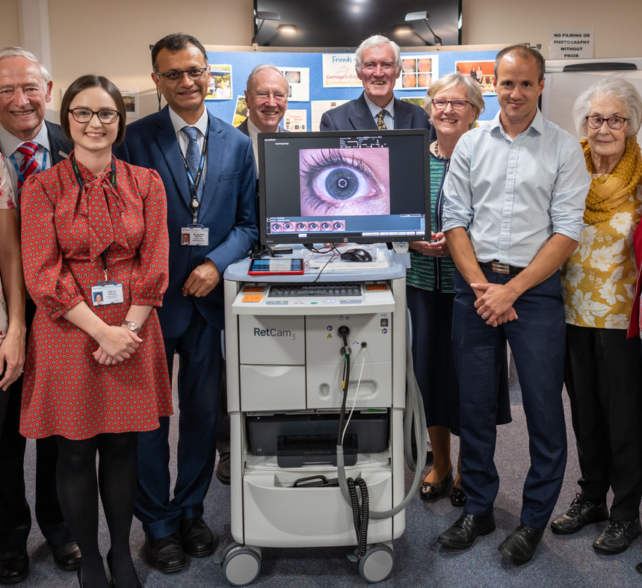 Diagnosing a condition affecting premature babies that if left untreated can lead to permanent blindness can now be carried out at Harrogate District Hospital, thanks to fundraising efforts led by colleagues in the Ophthalmology service and the Friends of Harrogate Hospital and Community Charity for a new £100,000 high-tech retinal camera.
Premature babies are susceptible to permanent blindness if the blood vessels in the retina are insufficiently developed before birth, where one in 10 premature babies can be affected. This condition, called Retinopathy of Prematurity, can be cured with laser surgery if diagnosed very soon after birth.
The condition is diagnosed using a high-tech retinal camera called the RetCam3. Until now, every new-born premature baby screened during direct examination methods and had to be taken by ambulance to Leeds or Hull for checks if concerns were raised by the consultant.
A huge thank you to all our fundraisers: The Fay and Ian Elliot Trust, The George A Moore Foundation, Sovereign Healthcare, The Bramhope Trust, Knaresborough Relief in Need, Vinyl Sessions, High Moor Caravan Park and Knox WI along with countless other donations.
Read more here: https://www.hdft.nhs.uk/news/retcam3/
Also a huge thank you to Photography For Life for taking these wonderful photos!