The Friends of Harrogate Hospital is a group of volunteers who carry out fundraising for the benefit of patients at Harrogate and District NHS Foundation Trust.
They hold a range of events and organise fundraising activities to raise money for state-of-the-art hospital equipment.  In a typical year, raising between £50,000 and £100,000 and supporting around 30 different projects for wards and departments across Harrogate Hospital.  Every penny is spent in consultation with Trust staff so we can ensure that we're doing the very best for the patients.
The Friends raise funds to provide things that the NHS cannot cover, improving the experience    of patients and making their treatment, whether in hospital or in the community, a little more pleasant.  Some claim that when you walk through the Hospital you are always within two metres of an item or facility funded by the Friends.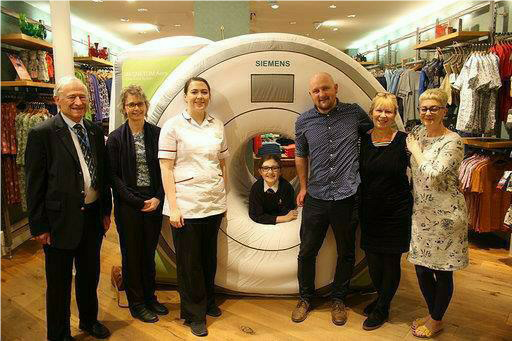 This year, the Friends are celebrating their 55th Anniversary.  Having been formed in 1966, they have raised an amazing £2.25m to provide equipment or services which could not be funded from the NHS budget at the time.  Their most inspirational campaign raised an amazing £335,000 to house the Hospital's first MRI Scanner.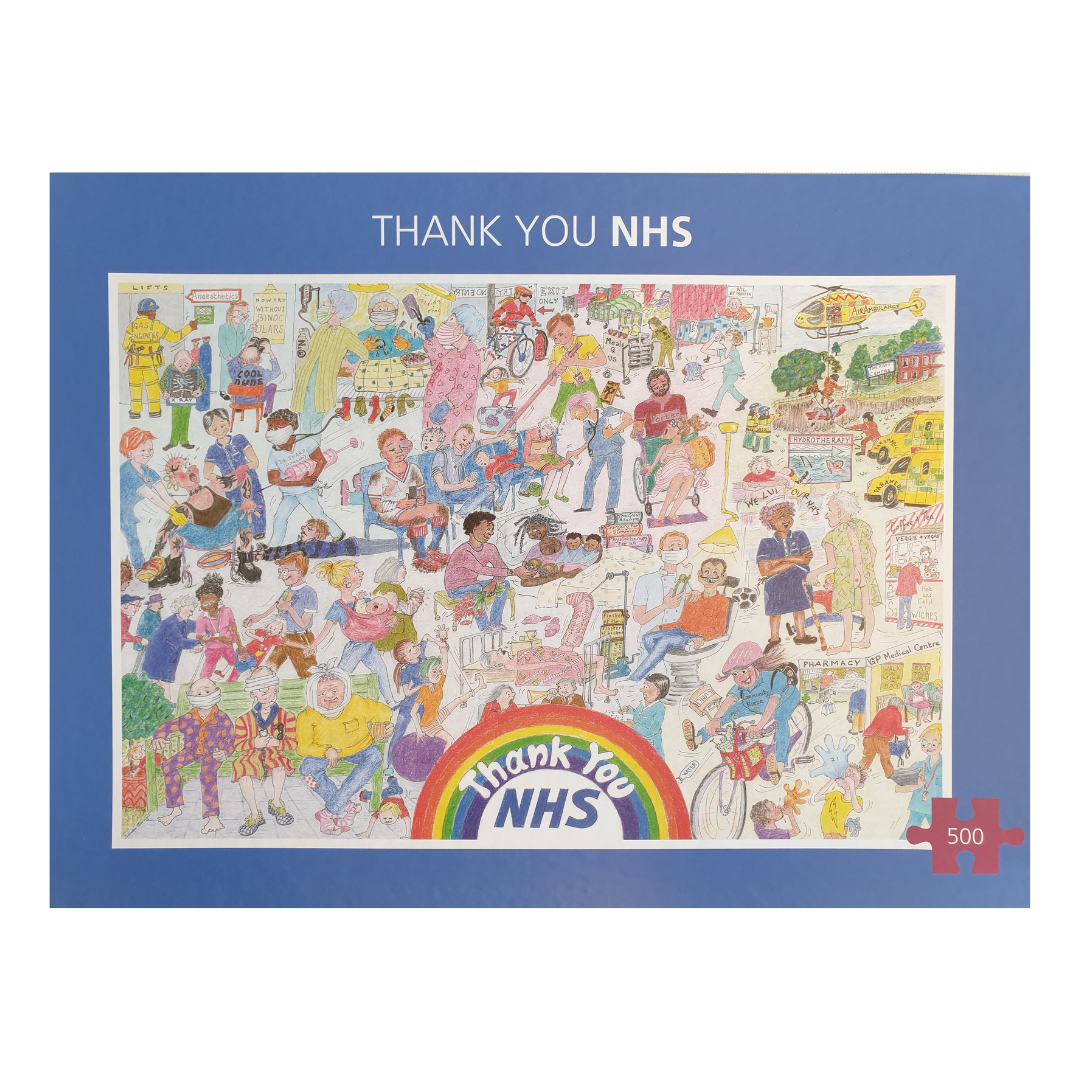 As part of the Friends' 55th Anniversary celebrations, the Friends commissioned Sandra Gascoigne, a local Dales artist, to produce a collage of cartoons; a humorous tribute to all who work in the NHS.
This unique Limited Edition jigsaw titled "Thank you NHS"  and is now available to purchase here for a special offer: £14.95 including postage, packaging and authentication certificate.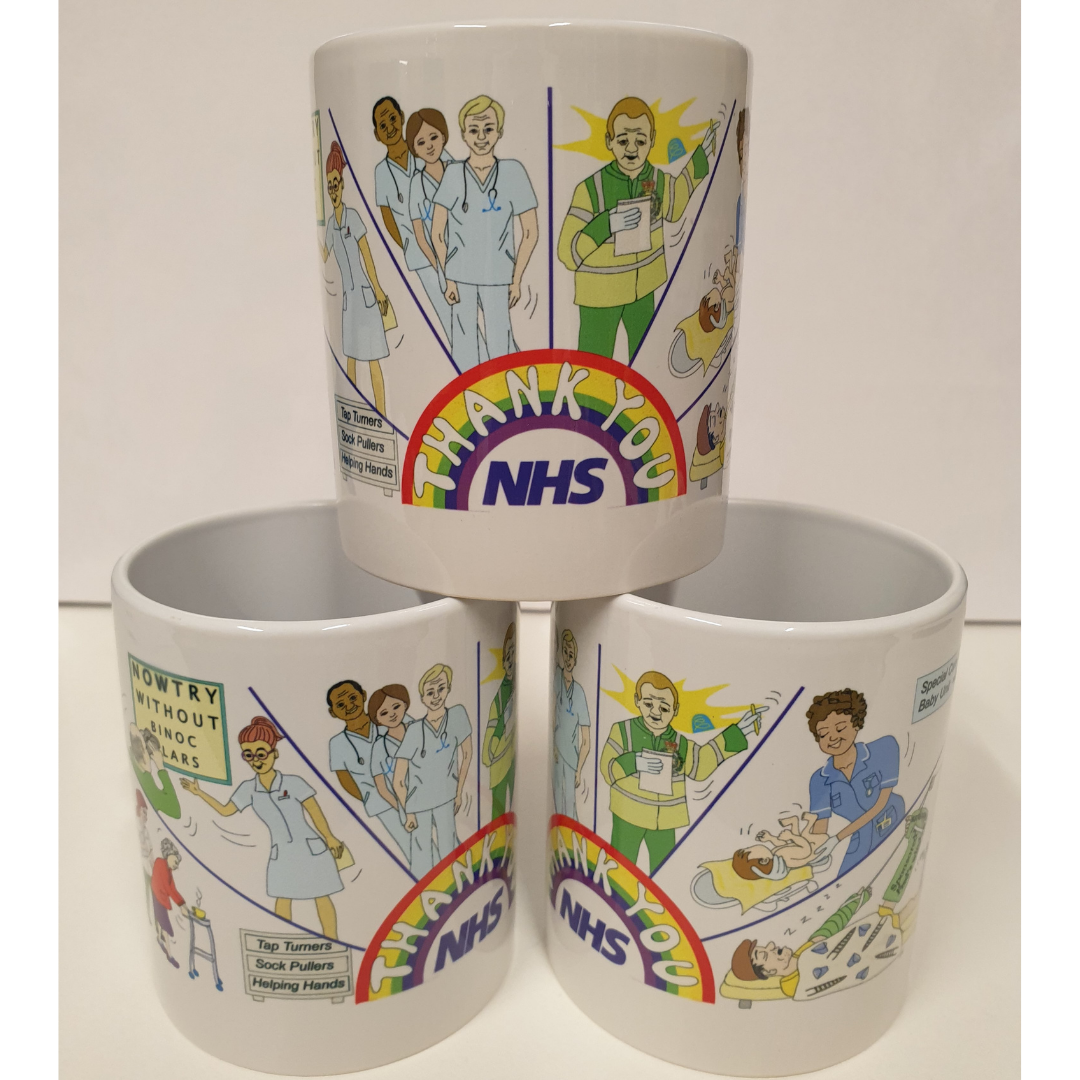 Sandra Gascoigne has also kindly designed a collage of cartoons for the Friends' unique Limited Edition mug titled "Thank you NHS"  and these are now available to purchase for a special offer price of £15.00 for 2 mugs or £25.00 for 4 mugs, including packaging and postage to anywhere in the UK, excludes ROI.  They will make excellent Christmas presents.
We are very pleased that Councillor Trevor Chapman, Mayor of the Borough of Harrogate has selected the Friends of Harrogate Hospital as one of his charities for his Mayoral year. We wish Councillor Trevor Chapman and Mrs Janet Chapman a very enjoyable Mayoral Year and we look forward to working with them. Check out our Events Calendar for the Mayor's fundraising events.
2020 was a particularly difficult year due to Covid-19 for the Friends to raise money, but we managed to raise £34,685.00 which enabled us to acquire 14 pieces of equipment.
Thank you for your support!
If you would like to join or help the Friends' team, please write to us at friendsofhdft@gmail.com.  If you would like to donate to the Friends of Harrogate Hospital directly you can do so via:
BACS
Bank: Royal Bank of Scotland
Account Name: GBS RE HARROGATE DIST NHSFT CF
Sort Code: 60-70-80
Account Number: 10004904
REF: 7030 (+ your surname)
POST
Donate by sending a cheque to:
Friends of Harrogate Hospital
Planning Department
3rd Floor,  Strayside Wing
Harrogate Disrict Hospital
Lancaster Park Road
Harrogate
HG2 7SX
The Friends receive great support from local businesses that they have developed relationships with over the years.
White Stuff on Princes Street, Harrogate chose the Friends of Harrogate Hospital as their local Charity Partner in 2011.  Over the years they have held a number of fundraising initiatives, raising over £10,000 to fund equipment for our children's services throughout the hospital including the Child Development Centre and Special Baby Care Unit.
White Stuff have recently changed their policy on working with local charities to only supporting a National Charity as a whole company.  The Friends would like to thank all their local staff who put so much effort into their fundraising for the last 10 years.  We are extremely grateful to them for all their support.
If you are a business or believe your company could support the Friends of Harrogate Hospital, please email them at friendsofhdft@gmail.com