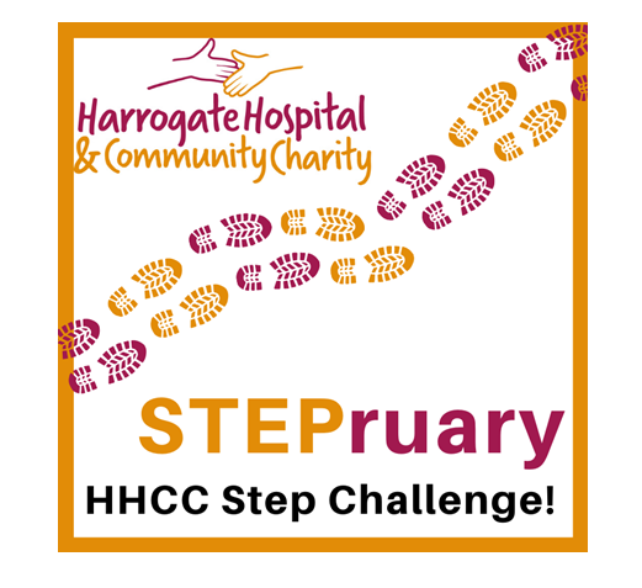 Are you ready to step into February……HHCC Challenges you to STEPruary!
Event details
February 2020

Why STEPruary? It's free, and one the easiest ways to get more active, lose weight and become healthier.
To enter this challenge – get in touch or register for the event on our Facebook Page
So step out this STEPruary to raise money for patients and their families.
How to sign up to STEPruary:
1. Set a Target
Choose from our challenge targets or set yourself your own personal target
Our STEPruary challenge targets are set over the 29 days of February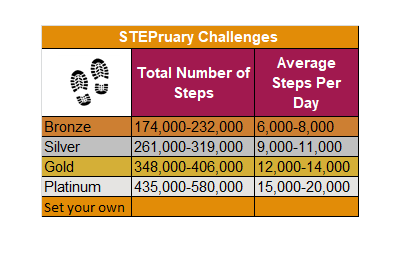 2. Start Fundraising
 Click here to download our sponsorship form and get friends/family/colleagues to sponsor you
3. Keep Track of Your Steps
You can use an activity tracker, pedometer or app on your smartphone to track your daily steps
Click here to download our step tracker record sheet to input your steps to work out your total
4. Encourage Others to Join
Get your friends, colleagues and family involved, why not start a competition between you? Or set up teams within the workplace?
5. Get Sharing
Post pictures if you are hiking / walking / running to social media – and don't forget to tag us and #STEPruary
Share your fundraising efforts and / or fundraising page to social media to reach more people
For those who aren't on social media, why not email your pictures to hdft.hhcc@nhs.net
6. Most importantly have fun whilst raising funds to make a difference to patients and families
Once you have completed your challenge please send us your results to receive a HHCC Certificate!
Once all your sponsored money has been collected this needs to be donated via:
Website: click here
BACS:
Sort Code:                60-70-80
Account Number:   10004904
Reference: STEPruary
Cheque:
Payable to: Harrogate Hospital and Community Charity
Address: Harrogate Hospital & Community Charity, Planning Department, 3rd Floor Strayside Wing, Harrogate and District NHS Foundation Trust, Lancaster Park Road, Harrogate HG2 7SX
Cash: By bringing into Harrogate District Hospital
If you would like to contact us please click here
Tips on how to increase your step count
Take a walk in your lunch break
Leave the car behind when you can
Walk to school
Pace / walk on the spot rather than standing still
Park further away from your destined location
Walk over to a colleague rather than sending an email where you can
Take the stairs
Get off the bus a stop early
Set alarms hourly to remind you to get moving
Meeting with friends? Why not go for a walk instead of a coffee
Take the dog for more walks (fun for them too)
Take the longer route
Have a walking meeting with colleagues
Walk with friends / family
Mix up your walking routes – find great walks here: http://www.walkengland.org.uk/
Listen to music or your favourite podcast, whilst walking
Join a walking group
Good luck!