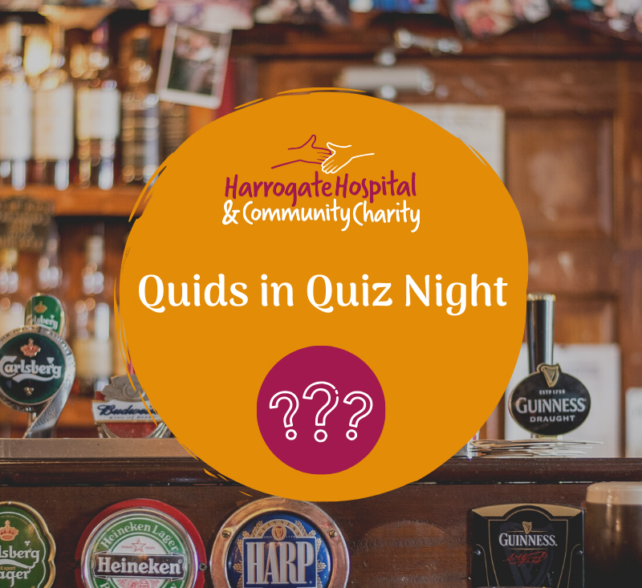 Why not host a quiz night for HHCC?
The nights are drawing in, and evenings are getting colder, and darker. That means autumn and winter – the perfect seasons to run a Quids in Quiz Night for Harrogate Hospital & Community Charity.
But if you've never run a quiz, the idea of putting one on can be daunting. But fear not! You only need two things: fun questions, and organisation! And the good news is that help is available for both of these things. Here are our top tips for putting on a great charity quiz.
Pick a date and time, and book a venue which can both accommodate your teams, and provide the necessary catering facilities. Chat to local pubs and clubs that run quizzes.
Appoint a witty, confident quizmaster, with a few assistants to oversee the scoring. You'll also need a microphone or PA system and a CD/MP3 player. Keep a scoreboard – could be a flip-chart or whiteboard, for example – so that everyone can see who's in the lead after each round.
Confirm the quiz format – how many rounds? What themes will you have? Tailor the quiz to suit your audience, making it inclusive for those families from different cultural backgrounds. If you're running a family quiz, ensure that each round has a few questions that the children can answer. There are numerous sites offering quiz questions.  brainboxquizzes.co.uk  challengethebrain.com/questions-and-answers-pub-quiz.htm
Spread the word. You're raising money, so the more the merrier. Talk to your club or organisation, and if there are different teams or sections, invite each of those to enter! Create an event on Facebook, email your friends and colleagues and put up posters in the pub, club and local area.
For buckets and collection tins contact us at hhcc@hdft.nhs.uk
We'd love to hear from you if you'd like to set up your own quiz, please drop us an email hhcc@hdft.nhs.uk